Meant for each other:
Fuerteventura is the perfect place for windmills: large open spaces, flat surface and strong winds, especially in the central-northern part of the island.
In the eighteenth century, the Castilian windmill model was introduced in Fuerteventura. And from then on, these structures were built all over the island, reaching up to 1000 windmills.
Millers had a very important job, as they had to control the speed and pace of the turning sails to achieve the adequate degree of grain milling. Their knowledge was passed on from generation to generation.
A thousand windmills on the island?
The windmills became a key element in Fuerteventura's landscape and in its inhabitants' lives. They were used to extract water as well as to mill grain, turning Fuerteventura into "the granary of the Canary Islands".
The grinding was mainly used for the production of toasted cornmeal, a pillar of the culture of the Canary Islands, which was a fundamental nutrient both in times of plenty and in times of poverty.
The grains can be of different cereals (barley, corn, wheat or rye) and the grinding always takes place once they have been toasted, which makes it different to other kinds of flour.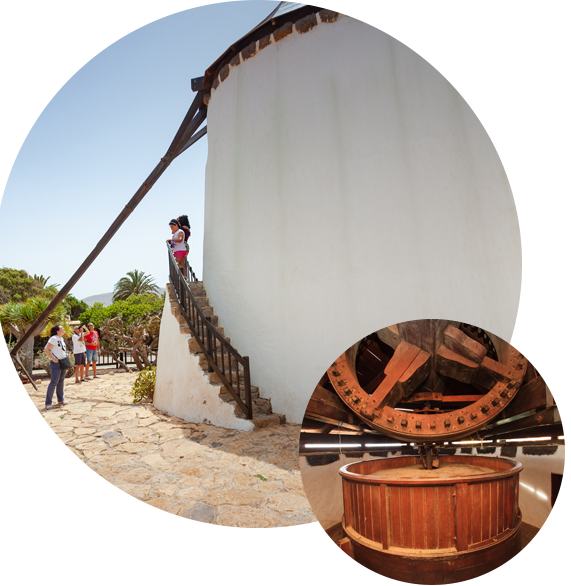 The Antigua Windmill
The door of this windmill is always open, willing to welcome anyone who wishes to see the inside of a real windmill. Despite its many years and hard work, it is in perfect condition. If you climb its stairs, you will see that it still has its original machinery: the cogwheels, the millstones, the hopper and the axle of the sails. It is put into operation on certain dates, so don't miss our postings!
Windmills and flourmills:
If you would like to learn more about the windmills in Fuerteventura, come and visit the "Los Molinos" Interpretation Center, a few kilometers south of Antigua, at Tiscamanita. Located in a typical house of Fuerteventura, this center has a collection of different grinding systems, which can be operated by the visitors, to learn about the importance of this kind of tools in the islanders' lives. Near the house is another windmill, which was used for grinding toasted cornmeal, a typical food item of the Canary Islands, which is kneaded in a haversack for our visitors to taste.